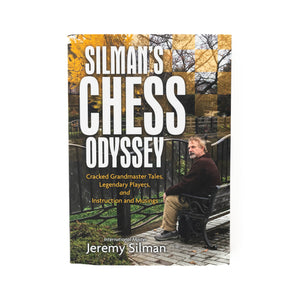 From the bestselling author of How to Reassess Your Chess and Silman's Complete Endgame Course now comes Silman's Chess Odyssey, International Master Jeremy Silman's homage-part instruction, part history, part memoir-to the game he loves.
       Chess is a battle of strategy, a struggle for power and dominance. For some players simply a pastime, for others an obsession, at its highest level it rises to an art form. Silman's Chess Odyssey touches on all these aspects of the game, beginning on the lighter side with behind-the-scenes tales of tournament life.
       From there the book takes a more serious, historical turn, profiling the lives and careers of eleven legendary players (Adolf Anderssen, Ignatz Kolisch, Johanes Zukertort, Siegbert Tarrasch, Wilhelm Steinitz, Emanuel Lasker, Frank Marshall, Rudolf Spielmann, Alexander Alekhine, Salo Flohr, Efim Geller), with the help of diagrams and analysis of over 275 games.
       For the third part of this 560-page work, Jeremy Silman delves into accounts of criminals who were talented chess players, discusses a memorably odd series of games in a historic interzonal tournament, and memorializes some of his friends in the chess world. And in a concluding fourth part, this acclaimed instructional writer and teacher offers material on opening, imbalances, tactics, psychology, and FAQ.