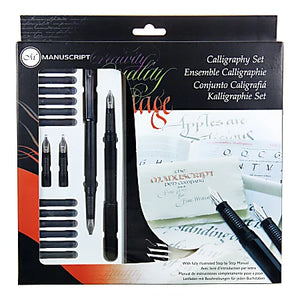 Grabbing the Manuscript calligraphy set is a great way to start learning this creative writing form. The set comes with calligraphy pens that allow you to take ordinary text and turn it into a special, extravagant style.
Kit contains everything you need to start enjoying the art of calligraphy.
Helps you develop your skills and express your thoughts in a beautiful design.
Each set includes 2 Manuscript fountain pens with medium and 4B gilt nibs along with a 2B and Scroll Six nib.
Also comes with 12 assorted ink cartridges (green, black, red, sepia and blue), a practice pad, 3 ruled guideline sheets and a step-by-step manual.
Replacement ink cartridges are available (sold separately).