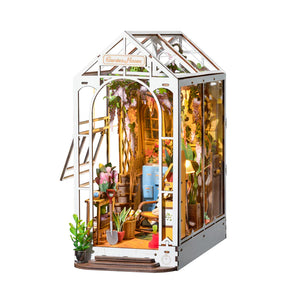 Enjoy the aroma of the flowers indoors with Garden House. This stunning piece is sure to add some color to your life with the portrayal of a quiet and warm greenhouse full of vibrant colors and smells. The attention to detail is remarkable, with detailed furniture, colorful, and a delightful greenhouse that will brighten your day.
The kit includes tiny LED bulbs to light up each little room. This colorful and warm lighting will add the finishing touch to your book nook. Comes with the needed LED lights, wiring, and battery box, along with detailed instructions to make this as simple as possible for you! 2 AAA batteries required; batteries not included.
This model comes with laser-cut pieces and printed designs to give a more lifelike miniature scene. Textured material gives an illusion of flowing water, and the mirror backing extends the scene. With such amazing decor and details, this modern DIY book nook is sure to impress.
Makes an amazing gift as either a DIY activity or pre-assembled as home décor.