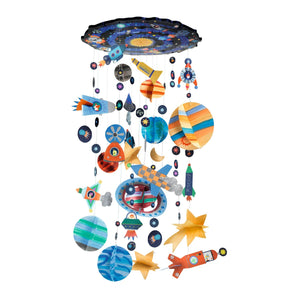 Bring the magic of the solar system to your room.
A great craft set for kids that are crazy about space and the planets.
Paint the pre-cut planets with the gouache paints included, add stars, rockets and comets the wire garlands and create your mobile. There's metallic detail to give your mobile a shiny finish!
Made using FSC® certified paper and card.
Contents: 1 illustrated cardboard stand, 5 pre-cut sheets of 8 planets and 3 stars to paint, 2 pre-cut sheets of decorative elements (rockets, stars, comets), 1 palette of gouache paints (8 colours), 1 brush, 10 m of nylon thread, 1 self-adhesive hook, 1 double-sided sheet of stickers, 1 set of instructions and 1 booklet on the planets and solar system.
Designed by Annabelle Buxton
Age: 7+ yo
Dimensions: Box 20 x 26 x 5 cm