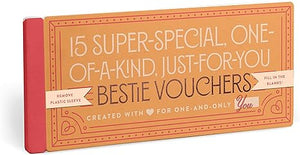 Let your BFFs know how much you see, adore, and appreciate 'em with this sparkling booklet of personalizable, feel-good friendship coupons

Includes: one (1) book of perforated vouchers, 7.5 x 3.25 inches; sold as a single unit containing 15 unique coupons

Simply fill out all 15 vouchers and hand 'em over to be cashed in anytime for favors, fun, pampering, props, and all-around good vibes. Shiny metallic stamping for extra friendship gifts razzle-dazzle

File under: best friend birthday gifts that keep on giving x 15! Because who doesn't want bff gifts sure to make 'em cry (in a good way)?