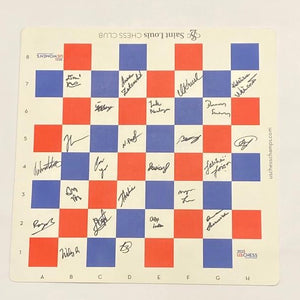 Grab a piece of chess history with one of these vinyl chessboards signed by the players in both the 2021 US Men's and Women's Chess Championships, totaling 24 signatures altogether.
The signatures from the men's field include: GM Fabiano Caruana, GM Wesley So, GM Leinier Dominguez, GM Jeffery Xiong, GM Sam Shankland, GM Ray Robson, GM Dariusz Swiercz, GM Sam Sevian, GM Lazaro Bruzon, GM Alex Lenderman, GM Daniel Naroditsky, and GM John Burke.
The signatures from the women's field includes: GM Irina Krush, IM Carissa Yip, IM Anna Zatonskih, WGM Tatev Abrahamyan, IM Nazi Paikidze, WGM Gulrukhbegim Tokhirjonova, WGM Katerina Nemcova, WGM Thalia Cervantes, WGM Anna Sharevich, WGM Sabina Foisor, WIM Ashritha Eswaran, and WIM Megan Lee.