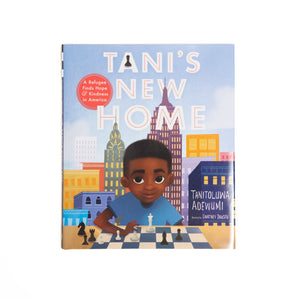 Tani Adewumi was born in Nigeria, Africa, and his family fled to the United States when he was just six years old to escape Boko Haram. Thankful to be together and safe, Tani and his family lived in a New York City homeless shelter for more than a year. 
Tani thought all new things in America were fun, but he also felt out of place sometimes. He longed for a home of his family's own. Then Tani made a discovery that changed his life: he was really good at chess!
Tani's New Home is the perfect picture book biography to share with your children to show them one young boy's amazing journey to develop his talent and find his place in the world.