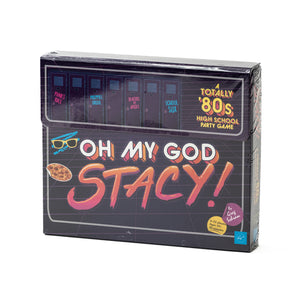 What's your damage?! Find your clique, grab your swag, and prepare for high school drama to the max with Oh My God, Stacy!, a totally radical card game where jocks, preppies, geeks, and punks square off in loving homage to high school movies of the 1980s. Peg your jeans, tease your hair, and flashback to the halls of high school as you play cards throughout the school day to prank your classmates, collect and steal gear, forge alliances, and earn cool points. Uggghhh! Morning announcements may change the rules of play each turn, so stay chill and may the coolest kids win!
Like oh my god! For 3-12 players ages 14 and up, this 80s party game takes approximately 30 minutes and includes 152 cards for play (action, gear, morning announcements, and more) and pizza slice tokens. No matter which clique ruled the school, dudes and dudettes who roamed the halls in the 80s, or for those who just love this radical decade, 
Oh My God, Stacy!
 party game makes a killer gift.