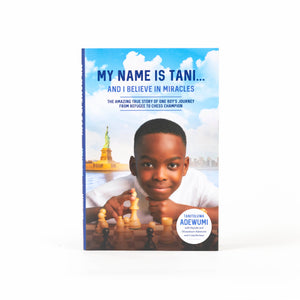 Tani Adewumi didn't know what Boko Haram was or why they had threatened his family. All he knew was that when his parents told him the family was going to America, Tani thought it was the start of a great adventure rather than an escape. In truth, his family's journey to the United States was nothing short of miraculous-and the miracles were just beginning. 
Tani's father, Kayode, became a dishwasher and an Uber driver and Tani's mother, Oluwatoyin, cleaned buildings while the family lived in a homeless shelter. Eight-year-old Tani jumped into his new life with courage and perseverance-and an unusual mind for chess. After joining the chess club in his public school, Tani practiced his game for hours in the evenings at the shelter. Then he began competing in the ultra-exclusive chess clubs of New York City. And winning-again and again. Less than a year after he learned to play, Tani won the New York State chess championship.
In My Name is Tani...and I Believe in Miracles, Tani and his parents tell us their incredible true story of sacrificing everything for family, living with nothing but hope, and then sharing generously all they received to the discover the greatest riches of all. Tani's triumphant spirit reminds us of the power of kindness and the beauty of unity as watch for the next miracle to begin.