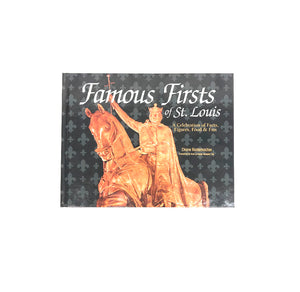 First and foremost, the one and only, innovative, superlative--St. Louis' robust history is loaded with examples of these claims to fame. Scores of noteworthy firsts from all aspects of life in St. Louis pack the pages of Famous Firsts of St. Louis. St. Louis captures its share of the spotlight nationally, and even internationally, with its lengthy list of introductions and number one boasts. In this unique volume, author Diane Rademacher tracks down the stories and the facts to celebrate many of the premier contributions of St. Louisans, past and present.
Did you know...
That the Radio City Rockettes evolved from a troupe that danced first as the Missouri Rockets in St. Louis?
That the first president to fly in an airplane flew in St. Louis?
That the St. Louis Cardinals were the first major league baseball team to have a woman owner?
That Reddi-wip and Tums were invented by St. Louisans?
That the first First Lady to write her memoirs was a native St. Louisan?
That the first recognized cocktail party took place in St. Louis?
That Big Foot 4x4 Monster Trucks originated in St. Louis?