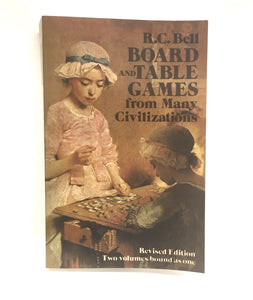 There are many authoritative books on card games and chess, but only a handful on the dozens of other games known to mankind. This excellent handbook by R.C. Bell is a basic reference to board and table games from around the world, and one of the two or three finest books ever written on the subject. Originally published in two volumes in the 1960's, it is now available for the first time in a corrected, one-volume edition.
Mr. Bell's encyclopedic work provides the rules and methods of play for 182 different games: Ma-jong, Hazard, Wei-ch'i (Go), backgammon, Wari, Continental draughts, Parchisi, Japanese chess, Bidou, Domino Loo, Cribbage, and many others. Volume one is divided into chapters devoted to race games, war games, games of position, Mancala games, dice games, and domino games volume two follows the same arrangement and then proceeds to games with numbers, card games requiring boards, and games requiring manual dexterity. Additional information is furnished on making boards and pieces, and on gaming-counters. 
Games players, toymakers, and historians of culture will welcome this guided tour of games from Egypt, Meso-America, the Orient, India, Persia, Rome, Africa, Victorian England, and many other societies. Over 300 illustrations, both photographs and line drawings, add an illuminating counterpoint to the text.