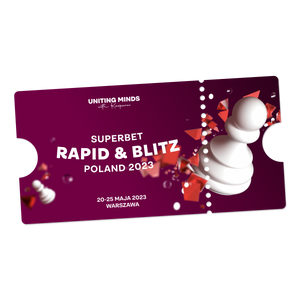 Please join us at the Grand Chess Tour Superbet Rapid & Blitz 2023, held in Warsaw, Poland, POLIN Conference Center 20-25 May.
Tickets are free, and fans may reserve up to two per day. Watch the exciting action live and in person by getting your tickets today.
The Superbet Rapid & Blitz Chess is a 10-player round robin tournament that kicks off the 
2023 Rapid & Blitz Grand Chess Tour season. Featuring the very best players in the world and 175,0
00 in prizes, you don't want to miss the action!
Tournament Venue:
POLIN Confrerence Center,
ul. Anielewicza 6, 00-157 Warszawa
More information available at:
Superchess.pl