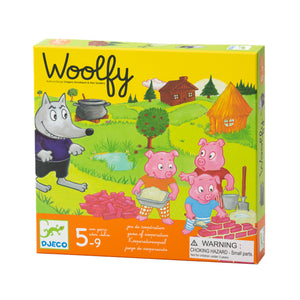 This game basically re-enacts the tale of the three little pigs. Players cooperate in building the brick house and avoiding the wolf until they are all safe inside the brick house.
Play is basic roll-and-move, with each pig having a die of its own color. Die results are either move 1, 2, or 3 spaces (in either direction), or move the wolf, or run away to one of the three houses.
The wolf moves clockwise in jumps that can sweep up any piggies he lands on or passes. Pigs that are caught are put in the cook pot. The other little pigs can rescue pigs in the pot if they land on one of the cauldron spaces and roll a die successfully.
Pigs are safe when they are in a house.
At the beginning of the game, the brick house is not yet built. It has four pieces. When a pig lands on the brick house space, he or she can add one piece to the house. Once the brick house is completed, the pigs can occupy it. Once all three pigs are in the brick house, they win. If the wolf captures all three pigs, however, they lose.